Best DJ Software: Our Top Choices for Professional DJs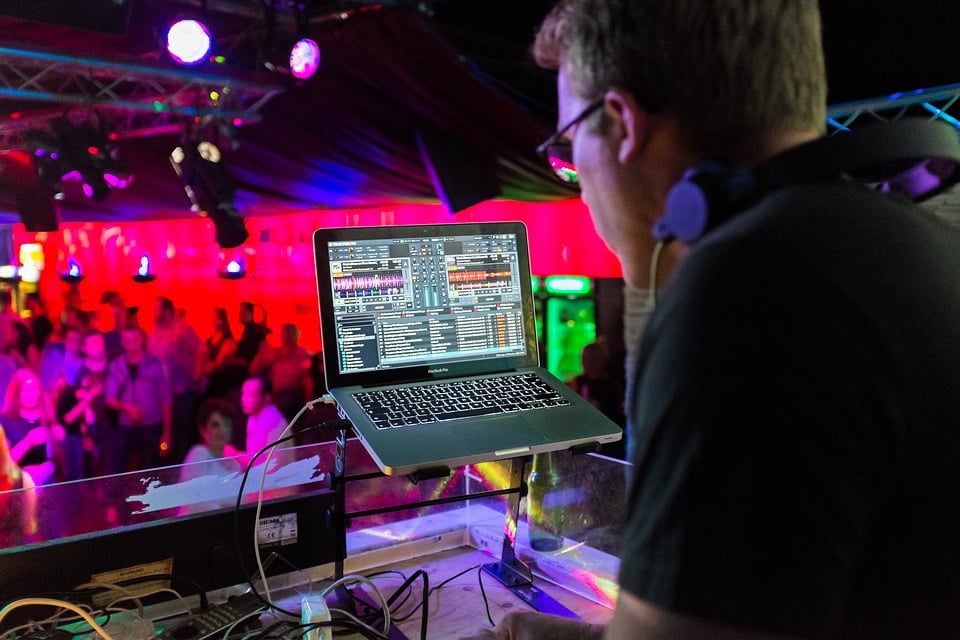 With a lot of options presented to you in the market when it comes to DJ software, it can be quite challenging to know which is the best for you. On this page, we are going to discuss and review all of the best DJ software.
Our Reviews for Each of the Top DJ Software
Out of all the amazing DJ software options that you will find in the market right now, we have picked out the top-rated ones that professionals tend to use the most. In addition, we will be discussing each of them and share with you our honest feedback about them.
1. Traktor Pro 3
Traktor is one of the well-known DJ software in the market. They have made a name in delivering the best quality of both software and hardware. They are user-friendly and can be easily operated by both beginners and seasoned DJs.
Software Layout
Traktor Pro 3 provides a very visual representation of the analytics of each of the tracks that you are working on. It has colored wave forms that help differentiate the low frequencies from the high frequencies. It also is kind of a big deal in the vast world of DJ software. I
The jazzy display of colors is all a sight to behold especially with its crisp and colorful backdrop. It also has a very straightforward layout for its browsers which is a great advantage, especially for a newbie DJ.
Features and Functions
As for its features and functions, Traktor Pro 3 carries four decks that can be customized to the user's taste. It also features a significant number of FX ranging from simple delays and reverbs to the complex modulators.
The Traktor Pro 3 can be used and is compatible with both Native Instruments hardware and just about any third party hardware. This software has been recommended for its versatility, popularity, and user-friendly interface.
See Traktor Pro 3 in Action:
2. Virtual DJ
Another famous DJ software is Virtual DJ. Although they are not as widespread compared to Traktor and Serato, Virtual DJ has achieved much popularity on its own terms. It also has a lot to offer. As a professional DJ, Virtual DJ is wonderful software to consider using.
Software Layout
Virtual DJ also features a dark backdrop that is sharp and elegant. It offers simple and straightforward navigation while you are using it. It is particularly ideal for beginners because of its simple and less daunting interface.
Features and Functions
Virtual DJ is very versatile as it can work with almost any DJ hardware available in the market. This gives the users a wide range of choices when it comes to picking out a controller that suits them best. Just make sure you have the right MIDI map for the controller you have in mind.
Another notable feature of the Virtual DJ is compatibility with PC and MAC. No need to so much configuration here which saves you a lot of time. It also allows users the ability to play 6 decks at the same time.
Additionally, it carries standard features such as crossfading, tempo adjustment, song mixing, and cues. Since it can be used under certain conditions without paying a dime, it is the best DJ software free loaders tend to marvel over the most.
See Virtual DJ in Action:
3. Serato DJ Pro
Serato has been known to be the DJ software that is ideal for beginners and newbie DJs. It offers an easy-to-understand interface that has the old vinyl feel to it. However, it also comes with modern features and functions as well. This has been widely remarked throughout the years to be the best DJ software for scratching.
Software Layout
The layout of Serato DJ is one of the best in the market that features a sleek design. It has a dark background color with a minimalist feel. This allows for easy navigation and monitoring of everything that is going on within the system.
Features and Functions
One of the notable features that Serato DJ has is its ability to create crates which are playlists. You can easily create a playlist by simply adding songs to the crate. It also has a smart crate which lets you set rules for it.
It is also very easy to create loops and hot cues. All these just takes a single click on your mouse. It also has the quantize and sync features that some find a little non-mandatory. Nevertheless, more options are better than less.
It also has a built-in adjust and key detection feature. This feature analyzes the key of the track and displays it for you to see. It is also known to work with a plug and play capability. However, one downside is that it requires a Serato approved piece of equipment or hardware.
Serato DJ software is also known to have outstanding quality and stability. You will experience very little issues on the system and almost no encounters with crashes. This is because of how simple the software is.
Part of Serato DJ's exclusivity that you need to have hardware that is Serato-approved for it to work smoothly. If you want an affordable option to get you plugged into Serato, check out the Pioneer DDJ DJ-SB3.
See Serato DJ Pro in Action:
4. Rekordbox
Another close competitor is Rekorbox. It may not be as popular as the others like Serato, Traktor, and Virtual DJ, but Rekordbox also has interesting features and offers. This has been one of the rising stars in the DJ software industry.
Software Layout
Its layout consists of multicolored wave forms that are stacked neatly for easy viewing. Your track library can be viewed at the bottom of the interface. It can be a little overwhelming at first, but its layout can easily be configured to ones taste.
Features and Functions
One of the notable features it has is the ability to switch views for your decks whether its two of four decks. It also has iTunes integration in case you find it more easy to work using this application.
It has switchable panels for the samples, effects, and pads. rekordbox is designed to come with Pioneer hardware but can be used by various DJ controller brands. Just make sure to check in advance whether or not your controller will work with rekordbox.
The FX integration of the rekordbox works great. This is one of the user favorites. You can easily assign FX per channel as well as other filters which makes this software outstanding. It also offers slip looping features and the ability to prepare mixes for standalone sets.
Moreover, it has pads that are easily accessible and it allows you to DJ using keyboard shortcuts from your laptop or a computer. This is why many consider it to be the best DJ app.
See rekordbox in Action:
5. Ableton Live
Now we have the Ableton Live. As its name suggests, this is designed for live performances. This is a go-to tool that DJs may use every time they have live gigs and events. This is not like the traditional software that is created to have the functions of mixers and turntables.
The Ableton Live is specifically created to have more flexibility and is more unique which suit any live performance.
Software Layout
This DJ software carries a striking appearance which includes three sections that make up that workspace. The Session View and Arrangement View is found in the main window. To toggle from one to the other only takes a click on the tab button.
The session view highlights a track-based approach. Each of the FX, vocals, and instruments are represented on each track much like with a mixing board. Grouping instruments are also as easy as highlighting the instruments and clicking on "group tracks".
The left side of the screen is the browser which makes recalling and saving samples, presets, and clips very easily. It also automatically detects any updates on your plug-ins once it is available on the system.
The detail view is located on the bottom section of the interface. This where you can create side-chain audio effects, MIDI melodies, and warp samples.
Features and Functions
Since this DJ software is designed to allow users to do tasks during live performances, one of the key features and functions of it are creating arrangements on the fly, tweaking FX and knobs, and creating remixes in real-time.
You will really see the genius of this DJ software while you are using it during live performances. This DJ software blurs the line between performing in a studio and live on stage. One piece of hardware made for it is the Akai APC 40.
This hardware and software compatibility allows gives the user the ability to do solo, crossfade, mute clips, tweak FX, record clips, and launch clips with an easy flick of the wrist.
See Ableton Live in Action:
Factors to Consider When Looking for a DJ Software
Like any other tool, we always need to have specific factors that we need to look into and consider before buying something. This is the same with DJ software. Here are some of the essential factors that you need to take note of before buying a DJ software.
Compatibility
This is one of the very important factors that you need to keep in mind. Make sure that the DJ software you are purchasing is compatible with the hardware it is connected to. Otherwise, none of these will function and you will just be wasting money and effort.
There are certain examples where DJ software is only compatible with a specific DJ controller. Meanwhile, there are also some that can work well with a variety of hardware selections. Be mindful and remember to check this before any purchase.
You also need to check if some components are needed for it to run properly. The best example of which is a soundcard (or audio interface). Some do not carry a soundcard and will need an external piece of equipment compatible with it to work.
There are also requirements when it comes to the operating system that you need to check before making a purchase. DJ software has clear indication typically included on its manual on what specific OS will be compatible and work well with it.
Stability and Quality
The quality and stability of the DJ software is also another vital factor to look into. You need to check if a particular DJ software operates smoothly. Keep in mind to pick one that is stable and does not easily crash.
A DJ software that often crashes or responds slowly will do you no good and just be a nuisance. Especially when you are in the middle of a live performance. This can be a disadvantage for your career as a DJ.
Choosing one of the above DJ software options will help you ensure that you don't encounter issues such as the ones mentioned here.
Features and Functionality
With a wide range of choices for DJ software, each of them also offers a variety of features and functions. Choosing the best DJ software will greatly depend on the features and functions you need and want based on your DJing style.
Since there are many different possible features that you can have, you need to do some soul-searching and determine what you want the most. If you are using a CDJ in your setup, as an example, you may need completely different things from your software.
If in case you are someone who is focused on effects, check if the DJ software you want to purchase carries multiple effects that you can use during your performances. If you are you want to have everything organized, go for a DJ software that has great categorization features.
Layout
There is also the layout that you need to consider. Since you will be working and using the DJ software, for the most part, having a layout that is easy to navigate is very important. This will allow you to avoid confusion and frustration while working.
Aim for something that has a layout that you feel would work best for you. It could be presented vertically or horizontally and you can choose which orientation suits your taste and fits the dynamics of how you work.
Explore and experiment so you can find out what is ideal for you. After all, you will be spending long hours looking at the interface. You might as well go for something that is not such an eyesore.
FAQs
What is the Best DJ Software?
This question gets asked all the time. The truth is, there is not really a straight answer. If you ask 5 DJs what the best DJ software is, you might get 5 different answers. Accordingly, you need to consider what features and kind of support you need.
You may even need to determine which DJ software to use based on what controller you wish to use. Remember that not all DJ software will support every controller. Then, consider what type of DJ you want to be.
What is the Best DJ Software for beginners?
As a beginner, there is one that thing that you should absolutely not do. That is to get a very low-quality DJ software that nobody uses. There are many great high-quality options to consider.
Best of all, you don't necessarily have to pay to try them out. As a general rule of thumb, the best DJ software for beginners is either Traktor, Virtual DJ, Serato, or rekordbox..
What Software Do Most DJs Use?
Depending on what type of DJ you are, you might choose to use different types of software. Producer DJs, as an example, tend to really love the studio-like features that are offered on Ableton Live. Scratching DJs, on the other hand, tend to really love the capabilities of Serato DJ Pro.
Mobile DJs tend to have needs which are a little more versatile. For this reason, we recommend that mobile DJs use either Traktor or Virtual DJ. Both of these products are widely known for having lots of features and for being dependable.
Conclusion
With the list of the top-rated DJ software that we have shared and reviews about each of them and how they work, you are now well on your way to pick out the best one that suits you.
Just keep in mind all the factors we mentioned that you need to look into before the purchase and you can't go wrong. If you are looking for a great controller to use with DJ software, make sure to check out our best DJ controller reviews.