Best DJ Speakers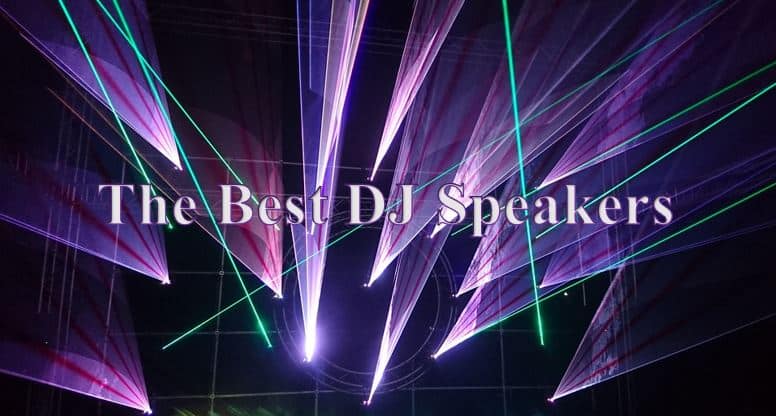 One of the most important pieces of equipment within a DJ setup are the speakers. You may have the best mixers, DJ controllers, and DJ software, but without a powerful and top of the line speakers the sound output will not be as satisfying to listen to. Keep in mind that what your audience is hearing matters, so it is a necessity to invest in the best DJ speakers.
Comparison Chart
| | | | | |
| --- | --- | --- | --- | --- |
| | | | 4. Electro-Voice ZLX-12BT | 5. JBL Professional JRX225 |
| | | | | |
The Best DJ Speakers In The Market For 2019
We know that there are quite a number of DJ speakers out there in the market at present. Sorting out and narrowing the list of which ones are the best is a daunting task. This is why we thought of doing that job for you. This article can serve as your guide to getting the information you need in order for you to pick the ideal DJ speakers you desire.
1. Bose L1 Compact
The Bose L1 Compact may be the smallest among the L1 series that they have launched, but it also has some interesting features that you need to consider. This DJ speaker uses line array technology to fill each venue with bass-pumping sound.
Product Highlights
It is ideal for venues that can handle around 100 people. With more speakers, the more people that this speaker can handle. One of the best selling points it offers is that it is significantly lightweight and highly portable. The arrangement and design of the speakers are also created to help minimize feedback.
It also features two-channel mixer inputs which is one for mic and another as a line input for instruments. The line array technology it uses makes sure that the volume will not drop off like that of a typical speaker if you move away from it.
In order to fill the whole room, it is has a wide dispersion pattern. This also allows you to hear yourself while performing without requiring additional monitors. Just be aware that this product doesn't really stand out in terms of RMS wattage.
What's to like about the Bose L1
This product really stands out from other speakers since it has a line array design which equally spreads the sound out across the venue. If you have the budget to purchase more than 2 of these speakers, it can provide you some of the highest quality sounds for each of your gigs. This product also comes with a carrying case and stand to allow easy transport and setup.
What's not to like about the Bose L1
Despite the impressive design and specifications of this product, it's important to note that there are many other speakers that provide more power than this one can. If you want each of your speakers to have more power than average, this may not be your top option. With the proper gear and setup process, though, you can theoretically use a product like this to produce sound as loud as a 1000W system.
2. Rockville RSG12
Another contender that we have on our list is the Rockville RSG12. This speaker has a trapezoidal shape which is designed to provide clear and generous dispersion of sound. It also has a pole mount in its cabinet that ensures easy setup with a speaker stand (sold separately).
Product Highlights
The multiple inputs it offers include two ¼-inch connectors for both in and out and another speak-on connection. It has a peak power of 1000 watts, program power of 750 watts, and RMS power of 500 watts.
The Rockville RSG12 weighs around 30 lbs and is made easy to carry around because of the built-in handles. It has a frequency response of 45 Hz to 22 kHz and 2-inch high-temperature voice coil and 8-ohm impedance allows it to produce a generous and a great deal of sound.
What's to like about the Rockville RSG12
A couple of things that stand out about this product is that it has generous specifications considering how affordable the product is. If you want to get a new set of affordable passive PA speakers that you can immediately use to light up a small - medium-sized venue, this should be one of your top options.
What's not to like about the Rockville RSG12
Despite the nice set of specifications and affordable price of this product, you shouldn't see this as a long-term option. Although you may be able to make a product like this last for years, don't be surprised to encounter problems quickly. Not all the parts are made to be entirely durable.
3. Mackie Thump12A
Next, we have the Mackie Thump 12A powered loudspeaker. It showcases an amplifier design that has a Dynamic Bass Response to give the audience that signature thumping experience. This 12-inch powered speaker has been redesigned to sound better than it had been.
Product Highlights
It is equipped with six speakers modes that you can switch on with a push of a button. This allows for easier and faster setup. It has 1300 watts of power that can produce powerful and dynamic sounds.
It also showcases two built-in channel mixers. Each of these channels has Vita preamps with Wide-Z technology. This feature is known to provide easy handling of line, mic, and instruments signals if need be.
This also means that you can plug inputs directly into the speaker without needing the help of an external mixer.
What's to like about the Mackie Thump 12A
For the price of this product, this speaker has an impressive set of specifications. In addition to a 12-inch woofer, this product can produce up to 1300W of total power. This is in just one speaker. Not for two speakers. Accordingly, having a pair of these speakers will ensure that your system really rocks.
What's not to like about the Mackie Thump 12A
This product is very affordable for the specifications that you receive. However, you should note that the materials that are used to construct this product are not all entirely high-quality. With careful maintenance, though, you can still make a product like this last plenty of years.
4. Electro-Voice ZLX-12BT
The next product on our list is the Electro-Voice ZLX-12BT. This is a powered PA speaker with Bluetooth technology. This speaker has a frequency response of 65 Hz to 18 kHz with a range of 50 Hz to 20 kHz.
Product Highlights
It also has a maximum sound pressure level of 126 dB which is partially due to its 1000 watts of total power which also utilizes transducers specifically designed by Electro-Voice. These transducers provide consistent coverage, less distortion, and enhanced acoustics.
It also features two TRS / XLR combo jacks, one 3.5 mm input jack, and another XLR link output. It also has an 18 gauge steel grille that has a black powder coat for that sleek and robust look. There are also built-in handles for easy transport.
What's to like about the Electro Voice ZLX-12BT
This product has a nice level of total power level. The construction of this product is also above average when compared with much of its competition. This is also a powered speaker, which means that you won't need to purchase a power amplifier. You can also use Bluetooth to stream audio, which is a feature that really stands out with this product.
What's not to like about the ZLX-12BT
Although this product has a nice level of maximum power, the RMS wattage is really more around 200 - 500W. Unfortunately, the RMS wattage is not entirely clear. Manufacturers who product active speakers like this one go through great lengths to ensure that the speaker lasts for a long time. In this case, the RMS wattage seems to take a toll.
5. JBL Professional JRX225
The JBL Professional JRX 225 is easily one of the best DJ speakers. This is one of the DJ speakers that offer a powerhouse of features. To start off, it is constructed to have a rugged 19mm medium density fiberboard enclosure.
Product Highlights
All of these are held together by strong mechanical fasteners and advanced adhesives to ensure durability and achieve acoustic superiority at the same time. It also has built-in, all-steel handles for easy transport and a gauge 18 hexagon perforated grille.
This 15-inch, double-woofer speaker can be used for a wide array of gigs, including live band performances. It is equipped with low-frequency drivers that are created with a 2.5-inch edge wound ribbon voice coil diameter.
Additionally, it also has a 1-inch polymer-diaphragm for its compression driver. The outstanding coverage control is partially due to the high-frequency Progressive Transition high-frequency waveguide technology.
The showcase of its power is evident with its high-voltage inductors and capacitors that have heavy-gauge wire and massive cores. To ensure that the high-frequency driver is protected from excess power without any interruptions, it is equipped SonicGuard.
What's to like about the JBL JRX 225
If you want to boost the total level of bass that your system provides, a two-woofer design like this one can really bump. Especially once you purchase subwoofers separately and add them in. This is a great speaker for any DJ to invest in if they want a long-lasting and powerful speaker that can compare with just about any other product.
What's not to like about the JBL JRX 225
To be clear, this is one of the best DJ speakers due to the unique two-woofer design, reasonable price, and impressive power levels. However, in order to use this speaker, you will need to be willing to haul some extra pounds. You will also need to purchase a power amplifier or two to make full use of its specifications.
6. Pyle PPHP1037UB Powered Speaker
The Pyle Pro PPHP1037UB is another pretty high-quality powered speaker to consider. This speaker has a brilliantly engineered abs box circuit that is sure to last a long time. To put your mind at ease, it also has a limited 1-year manufacturer's warranty.
Product Highlights
This self-powered speaker has 700 watts surging through it which can cover any studio and small venue setting. At the same time, it can power through larger venues if you purchase enough of these speakers.
If the venue is outdoors, the bass, mid, and high-frequency knob control can be used to adjust the sound levels to suit the venue. Aside from built-in handles for easy transport, it also has pole port for easy setup on a standard mount in case of outdoor settings.
It features a compressor driver that has a 1-inch diaphragm made of titanium. It has a sensitivity of 96 dB with a frequency response of 30 Hz up to 22 kHz and a range of 600 Hz to 20 kHz. Its power peak is at 700 watts and RMS power at 350 watts.
It also carries built-in channel mixers. In addition, it has XLR input, RCA line input, and a ¼-inch mic input. For output connections, it includes one XLR and another ¼-inch line output. Pyle took it a little further by also including a 3.5 mm aux-in connection.
What's to like about the Pyle PPHP1037UB
This aux-in connection is compatible with any type of music players, including iPhones. It also has a Bluetooth streaming capability which works with MP3 players, Smartphones, and tablets. You can also plug and play a USB stick or an SD card directly on this piece of equipment. Best of all, it also has its own remote control. The product is also reasonably powerful
What's not to like about the Pyle PPHP1037UB
In order to use this product for medium - large venues, you will need to purchase 4 or more of these speakers. Accordingly, DJs who want their PA speakers to be able to play for larger venues may only see this product as a backup option that can be used for small gigs.
7. Yamaha DXR 10 Powered Speaker
Since Yamaha has made a pretty big name for themselves when it comes to audio gear, the Yamaha DXR 10 powered speaker is another great option to consider. This is just one of the various products among the DXR series that have a lot to offer.
Product Highlights
This is a two-way speaker with a 2-inch tweeter and a 10-inch woofer. This comes with 1100 watts of total power and weighs around 32 lbs. The casing is made from hard plastic with a metal panel on its back. The design is reasonably solid and very professional looking.
It is equipped with an internal fan for cooling purposes. It carries one XLR input, a ¼-inch stereo input, and an RCA stereo input. Each of which has its own gain control. It also includes an integrated intelligent three-channel mixer that makes vocal and instrument amplification easier.
This onboard mixer can excellently handle three inputs simultaneously. Each of the channel inputs also has their own volume control, allowing you to have separate knobs for each input in case one or two of them break. with ease. Lastly, it has a wide horn which helps spread the sound around the room efficiently.
What's to like about the Yamaha DXR 10
This product comes with a nice level of potential volume, clocking in at 700W of total power. Or, 131 dB of total SPL. This is a pretty impressive number when we compare it with other products on this list. This is also an active speaker which doesn't require you to purchase a power amplifier separately.
What's not to like about the Yamaha DXR 10
The price for each unit isn't entirely affordable. Additionally, the woofer is only 10-inches. This means that the overall bass sound won't be entirely loud without having sub-woofers purchased separately. This is a great speaker if you want a powered speaker that isn't as expensive as some of the other high-end active PA speakers.
8. Seismic Audio SA-155 Series
Seismic Audio is another great brand that offers reasonably high-quality two-way 15-inch speakers. The SA-155 speakers weigh 51 lbs and have an RMS power of 500 watts and peak power of 1000 watts. This just goes to show that Seismic Audio can go head to head with many of its competitors.
Product Highlights
These speakers are protected by a carpeted plywood cabinet casing which offers a classic appearance. To protect the speaker components, they are equipped with steel grills. In addition, they have built-in pocket handles so that they can be transported anywhere without much difficulty.
That being said, these speakers can be used in just about any type of venue. They are portable, and best of all, powerful enough to cover a medium to a large-size area. Just be sure to purchase more than two of them if you have an outdoor event or a crowd over 250 people.
Each of the woofers are equipped with a 2-inch voice coil and a 50 oz magnet. Furthermore, there are also 2 x 5 tweeters, a frequency response of 30 Hz to 20 kHz, and 4-ohm impedance that allows it to generate a generous and a significant deal of sound.
What's to like about the Seismic Audio SA-155 Series
This is a great option if you are searching for speakers that are reasonably priced, yet capable of providing plenty of bass. With two separate 15" woofers and lots of wattage, these speakers are used by many DJs to avoid purchasing separate woofers. They are also reasonably-priced and offer the classic carpeted-look that many DJs love to have in a PA setup. If you want lots of bass for less money, this is a wonderful option to consider.
What's not to like about the Seismic Audio SA-155 Series
Although these speakers have their fair share of perks, it's important to note a couple of things. For starters, you will need to purchase separate power amplifiers in order to use these speakers. To be sure that you have plenty of power, you need an amplifier which provides 1000W and 4 Ohms for each speaker. These speakers are a tad heavy and large, making transportation a little more complicated.
9. Peavey PVx15
Another well-known brand that creates reasonably high-quality equipment for the music and entertainment industry is Peavey. Although it is not necessarily the king of high-quality sound or frequency ranges, the Peavey PVx15 is a great product for DJs to consider who are on a budget but still want to have a decent level of sound quality.
Product Highlights
To start off, the Peavey PVx15 is built using reasonably high-quality components. This includes parts such as titanium diaphragm, a steel grill, and a hard plastic shell. It has a peak power of 800 watts (400W RMS), a 15-inch heavy-duty woofer, and a 2 ⅜-inch voice coil.
Each PVx15 comes with a 15-inch sub-woofer, which will add plenty of bass to your system than you would experience with a product that has a 10 or 12-inch woofer. Since it has a 400W RMS, though, you might still need to get woofers separately in order to ensure that your system offers plenty of bass. Peavey woofers typically don't offer the deep, chest-pounding bass that you may want. If you need a system with this sort of bass, you definitely need to purchase separate woofers.
This speaker can also be easily mounted using a pole mount, and it can also serve as a monitor speaker when titled backward. Since the sides of the speaker are tilted, many bands and DJs might choose to use a product like this as a means to monitor their sound on-stage.
What's to like about the Peavey PVx15
The most impressive features that stand out with this product are the generous woofer size and affordable price. Typically, a product such as this one which has 15-inch woofers can come with a much more expensive price tag. Accordingly, this is a great product to consider if you want to ensure that the bass of your PA speakers is where it needs to be.
What's not to like about the Peavey PVx15
As briefly mentioned, these speakers only have a 400W RMS power. This means that you may need 4 or more of these bad boys to suit a crowd of 250 people or more. With speakers like this that offer RMS wattage below 500W, you can easily find yourself clipping the sound in order to suit the needs of the party. Finally, you will need to purchase a power amplifier separately to power these speakers since they are passive speakers.
10. JBL Eon 615 Powered PA Speaker
Product Highlights
JBL powered speakers are coveted by just about any DJ due to their impressive durability and performance. The JBL EON 615 is part of JBL's revolutionary EON 600 series known for premium sound quality and durability. That being said, you can expect some of the best sound quality combined with the latest innovation if you purchase this product.
When it comes to its construction, the JBL EON 615 is rock solid. The cabinet casing can be easily moved from one location to the next. It can also be used as a speaker monitor just by flipping it to its side. The EON600 series speakers all go through the notorious JBL 100 hour stress test where they are blasted at full power to ensure the durability of the speaker components. Although the casing can easily be marked with scratches and such, the speaker components will hold strong for years to come.
These speakers have a peak power of 1000 watts and 500 watts at a continuous level. These speakers can get really loud without compromising the quality of the sound output. It has a pair of ¼-inch and XLR inputs which come equipped with volume and EQ knobs.
This speaker can play deep bass notes reaching down to 39 Hz and hi-hats up to 20 kHz. It also has a maximum SPL of 127 dB. The included Bluetooth integration allows you to use any iOS or Android devices with this product.
What's to like about the JBL EON 615
JBL speakers like this one are some of the most durable speakers on the market as far as durability is concerned. To be clear, we are discussing the durability of the speaker components themselves. You really have to try to break these speakers. These are also powered speakers which come included with premium features such as
What's not to like about the JBL EON 615
JBL speakers are not always the most affordable speakers on the market. This product is another example of why this is the case. Although these speakers are very high-quality and durable, they are not the most affordable option you will find. Regardless, if you value quality over a price tag, this is one of the best options to consider.
Features To Look For In A DJ Speaker
Like any other piece of equipment, there are features that you need to look into before buying a DJ speaker. These factors will help you in narrowing down your choices to the one that you find as the best. Here are some of the top features to keep in mind while you are comparing all the good speakers DJ use.
Passive or Active
DJ speakers are typically either passive or active. Active speakers are typically more expensive but come with an included amplifier. This means that you don't need to purchase a power amplifier separately. Passive speakers, on the other hand, are usually more affordable. The cache here is that you will need to get a power amplifier strong enough to power them.
Although not necessary, many DJs will opt for active speakers. These are also referred to as powered speakers since they have a built-in amplifier. This also may mean that they come with separate EQ and volume control. However, with the right amplifier and mixing talents, passive speakers can be just as effective.
Wattage (Total & RMS)
The level of volume output of speakers depends greatly on how much power it is operating on. This is why power, which is typically measured in wattage, is one of the most important factors that you need to consider when looking for the ideal DJ speaker. Total wattage is how much power the speaker can handle, whereas RMS is how much it will consistently handle.
A general rule of thumb is that more wattage means more speaker power. In determining whether or not you have the ideal power for a speaker, you also need to consider how large is the crowd and the venue for the gig.
For a small indoor venue for example that will house around 50 people, a 200-500 watt RMS speaker can usually cover for the job sufficiently. On the other hand, if it is a large hall with hundreds of people, a good choice will be a speaker with 1000 watts RMS or more. Of course, you can always get several speakers which are less than this for the same effect.
Intended Use
Knowing how much power your speaker has is one thing. Another factor you need to consider is where and what type of event you intend to use it. For example, an outdoor event should be treated differently than an indoor event. An event should be treated differently than one with over 500 people. Even with the best DJ speakers, you can end up needing more power or speakers.
These things have to be considered in order to deliver the best quality of sound to your audience. Otherwise, the quality of your gig and performance can end up being compromised. Or, even worse, you can end up pumping up the volume to the point where your speakers distort and break.
For small venues, you can opt for the very basic speakers since the coverage will not require much sound output and power. Going up to medium-sized venues like wedding halls, churches, and others, you will need speakers with a higher power to fill up the whole venue. For large and/or outdoor venues, you will need loudspeakers with enormous sound output.
Durability
Another vital factor to look for is the material in which case the speaker was built. This will tell you how durable the speakers are. This is a critical factor since this is a type of investment that should last a long time.
Historically, speakers have performed well with wood and plastic casing. However, materials like these can deteriorate over a short period of time. Nowadays, the most high-quality speakers make use of casings that are made from some form of metal.
Portability
As a DJ, you will likely find yourself hauling your system all over the place. This means that you need to consider how much effort you are capable of putting into the transportation process. This is why it is preferable to get speakers which are reasonably portable and lightweight.
There are speakers that have built-in handles and also come with rolling casters. This may not seem much, but having to carry speakers around often can quickly get old. Although there are clearly perks which can come with getting bigger speakers, lightweight and portable speakers like the Bose L1s are a lot easier to transport than larger options like the JBL JRX 225s.
Inputs, Outputs & Extra Features
The outputs and inputs are essential to speakers as this is the way to connect them to other pieces of equipment within the whole DJ setup. These can vary from one speaker to another, that is why you need to pay close attention to it.
The inputs for most of the speakers often include an XLR jack, ¼-inch jack, or even RCA ports. Depending on your specific system requirements, make sure that you will be able to connect your speakers. Also, be sure to get the proper speaker cables and/or adapters.
There are also a few that offer some very unique features like Bluetooth connectivity, USB inputs, SD inputs, and so on. The bottom line is that you need to really look into what each product offers and see if it will be an advantage for you.
Conclusion
In conclusion, with all the amazing choices we have listed down and discussed, there are many great options to consider. If you want one of the best DJ speakers for a reasonable price, you should be sure to check out the JBL JRX 225 or the Yamaha DXR10.
Those with plenty of money in their budget will probably consider the Bose L1 to be the best DJ speaker since it offers line array technology, and is the most affordable and lightweight option that you can find.
At the end of the day, each of the products featured here are some of the best DJ speakers on the market. In order to make the best decision for your needs, consider your budget and what kind of specifications you need to have. If you finally have a nice set of speakers and need a controller to get your mixes up to par, be sure to check out our best DJ controllers.