Hercules DJ Control Inpulse 300 Review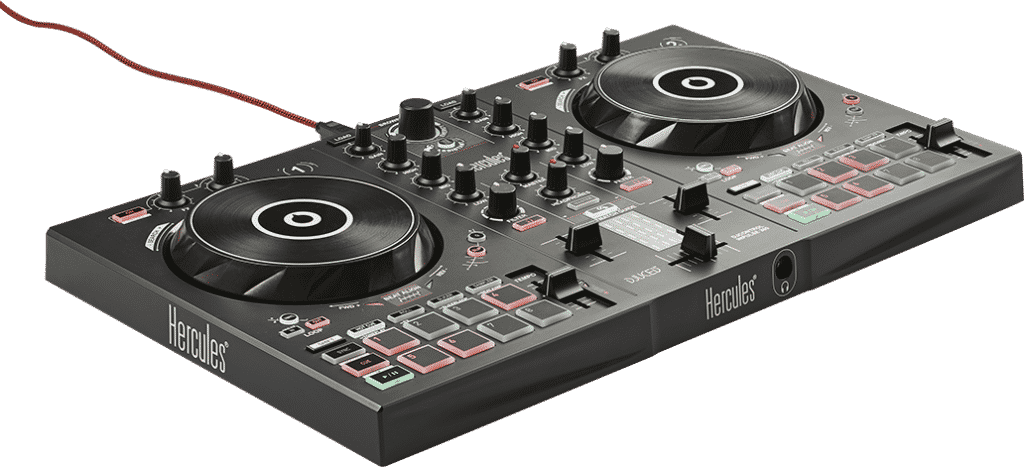 Hercules is widely renowned for their affordable entry-level DJ controllers. If you are looking for a controller that promises high accessibility at a low price, then our Hercules Inpulse 300 review will surely help you make the right decision.
Showcased at NAMM 2019, the Hercules Inpulse 300 generated quite a lot of buzz for being able to offer almost everything a beginner DJ would need while being this compact in size.
Hercules Inpulse 300 Review Summary
Quality
The build quality is not as good as some of the high-end controllers, but still manages to include basic controls such as 2-channels for the mixer, jogwheel platters, and 8 drum pads for each deck.
Features
The features of this product really stand out for beginners. There are various interactive tutorials and light guides to help you learn basic techniques.
Cost
One of the best-priced controllers out there, the Hercules Inpulse 300 price is pretty reasonable. You also receive many standard features which are on high-end gear.
The Hercules Inpulse 300 is a wonderful DJ controller for anybody who needs a rig to practice on at home, or for somebody just starting out. Although most standard DJ controller features are located here, this product is still limited. You can definitely use this professionally, but you might later upgrade to receive more premium features and software.
---
Hercules Inpulse 300 Pros & Cons
As we have explored so far into our Hercules Inpulse 300 review, this is a DJ controller which is really small, portable, affordable, and great for DJs who are learning how to mix. Here is a more detailed list of the pros and cons of the Hercules Inpulse 300:
This controller has the MIDI maps and support from the top DJ software providers to allow you to use which software you want. It also has tutorials and lighted guides to help you learn basic DJ mixing techniques. It is very affordable and comes with all the features you need to get started DJing.
---
If you get this controller, you will likely be somebody who wants to take advantage of the tutorial features, or just the reasonable price. Keep in mind, though, that you will need to purchase the full version of your favorite DJ software if you don't want to use DJUCED.
---
This is a great DJ controller to use at home for practice, or to learn on. Sure, you can definitely use the Hercules Inpulse 300 for professional gigs, but you should consider saving up for a more advanced controller while you do this.
Hercules Inpulse 300 Feature Highlights
Above, we can see the major features that come with the Hercules DJ Control Inpulse 300. To help you understand each of the main features, this Hercules Inpulse 300 review will break down the ones which are most pertinent.
Sound & Connectivity
The Hercules Inpulse 300 is a two-channel controller that comes with its built-in 24-bit / 44.1 kHz audio interface.
The controller offers a single RCA master out and has one ⅛" stereo jack (3.5 mm) headphones out and gain controls which are located in the mixer section of the controller.
There is a USB type-A output to connect the controller with your laptop. This cable comes included in the box.
Controller Features & Functions
The Hercules Inpulse 300 has a very standard set of controls and features which make it capable of being used for gigs and professional events. Let's go ahead and look at each of the controls in a little more detail.
Two-Channels and Decks
The decks section offers touch-sensitive jog-wheels, which are great for scratching or using slip mode. Each deck has eight performance drum pads that can be customized and used however you wish.
The Inpulse 300 also has dedicated beat-jump and loop controls for each channel. The decks contain knobs for adding in and adjusting sound FX, as well as each of the basic features available in a standard DJ controller.
Standard Mixer Features
The mixer of this DJ controller offers the standard three-band EQs knobs for each deck. There are also filter knobs which help you to filter out the undesired sound frequencies for certain techniques.
It also has gain knobs for each of the two channels, allowing you to manually adjust volume for each channel. The mixer section also houses the master and headphones gain knob, and can be used to cue tracks in your headphones without playing them over the PA system.
Sound FX & Looping Capabilities
Each deck has its own dedicated FX controls that includes an FX on/off switch, FX dry/wet knob and an FX selection knob. One thing that this controller lacks, though, are additional knobs required to control different FX parameters.
One solution to this is to get a dedicated DJ effects controller, or simply do things manually. The controller also provide buttons to help you access the looping features available on your DJ software.
DJUCED DJ App & DJ Academy
The controller comes with a free license of Hercules DJUCED app that teaches you how to mix with the help of the DJ Academy video tutorials available inside the app. There are also lighted guides on the DJ controller which help with beatmatching.
This is a not one of the top-tier software options, though. Realistically, you should see the DJUCED application as a platform solely for helping you develop your mixing skills.
Beat Matching Guide
The beat matching guide teaches you how and where to align different songs to make sure it's a smooth transition. It offers a real-time BPM adjustment guide complete with the help of light indicators alongside the tempo faders.
Using these visual aids, you will be able to see where your tracks are supposed to line up, helping the DJ to develop their skills and get better at mixing and beat-matching.
Intelligent Music Assistant
This feature will help you select the right track to mix in next according to the mood or atmosphere that you build during your sets.
Song selection is one of the most coveted and sought-after DJ traits. Now, you can get better at this with the help of your DJ controller. The Intelligent Music Assistant helps you to pick the next song using an advanced prediction algorithm.
Hercules Inpulse 300 Review Verdict
Although the Hercules Inpulse 300 has all of the standard features in a DJ controller, it is really best for those who need a controller to practice and learn on. We can see this with the tutorial and assistance features provided in the product.
Due to its quality build, professional layout, built-in audio interface, DJuced app license, and its portable size, the Hercules Inpulse 300 is a great beginner level controller.