Numark Mixtrack Pro 3 Review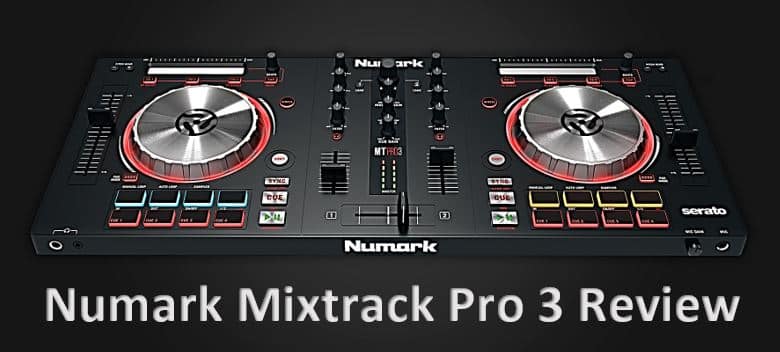 The Numark Mixtrack Pro 3 has a reasonable price which immediately makes it a top choice to many people.
When we consider how many features come with this controller for this price, this controller is a good option.
Especially for those who just want the basic standard DJ controller features.
This controller comes at an affordable price that is cheaper than most DJ controllers and an included audio interface.
This Numark Mixtrack Pro 3 review will walk you through everything that you need to know about this controller. This way, you can decide if it's the right choice for your needs.
Numark Mixtrack Pro 3 Review Summary
Quality
The build quality is an accurate reflection of the Numark Mixtrack Pro 3 price. In other words, certain parts may be prone to scratches and similar damage. The included sound card, though, help make the quality of this device stand out.
Features
The Mixtrack Pro 3 controller comes with dedicated filter knobs for both channels, 16 drum pads, touch strip dynamic FX control, and an included sound card. These features help make this product a reasonable deal.
Cost
The Numark Mixtrack Pro 3 price is one of the most noteworthy features to keep in mind. Since this product comes at a competitive price which is cheaper than most similar DJ controllers, it is definitely worth checking out.
Although there are many other DJ controllers which offer a comparable level of features, the Numark Mixtrack Pro 3 price makes this controller a reasonable deal. Especially if you want a simple two-deck design that comes with all the basic standard DJ controller features. At this price, it will be difficult to find more features than what we see offered.
---
Numark Mixtrack Pro 3 Pros & Cons
Most DJ controllers on the market have their own unique set of features that make it stand out, and usually some that might be deal-breakers. Here are the pros and cons of the Numark Mixtrack Pro 3.
The feature that perhaps stands out the most with this DJ controllers is that it comes at an affordable price that manages to include all the necessary standard features. It also has an included audio interface, which could end up saving you some money on a separate one.
---
The aesthetic design of this controller is nothing to be impressed about. Additionally, you will likely need to upgrade to the premium version of Serato. It is also important to take special care of the faders and knobs so that you don't break or scratch them.
---
Although this controller could definitely have used some extra boosts such as including four channels on the mixer, some more MIDI buttons, and so on, the price of the Numark Mixtrack Pro 3 make it stand out as a good option for those who want to get a decent bang for your buck.
Numark Mixtrack Pro 3 Feature Highlights
Listed above, we can see the main features and controls offered by the Mixtrack Pro 3. Let's go ahead and break down the most noteworthy and special features of this DJ controller so you can decide if it is the best option for your needs.
Metal Jog Wheels
It is common for an affordable DJ controller like this one to only contain cheap plastic parts for the hull, knobs, jog wheels, and so on.
Since the Mixtrack Pro 3 uses metal for the jog wheels, anybody who uses this portion of their controller the most will be able to expect a high level of durability.
Serato Software
The Numark Mixtrack Pro 3 software compatibility is optimal when paired with Serato.
Although only included with Serato DJ Intro (free version), you can upgrade to the full version if you like the Serato software.
The Serato DJ Intro software offers all the basic functionalities that you might need to use the controller right away.
If you don't like Serato, the good news is that this controller also works with most popular DJ software.
Included Audio Interface
With an integrated built-in soundcard, the Mixtrack Pro 3 connects directly to headphones, microphones, and speakers – needing no external audio equipment or interface whatsoever.
If sound quality becomes a concern, or you start to press the limits of your audio interface, you can always upgrade to a nicer one.
Touch Strip
One of the cool features of this controller is the touch strip search option at the top.
This basically allows you to search through your tracks on the fly and even add various effects that you can use in combination with the effects buttons and beat knob, placed right to the bottom of the strip search.
To make sure you do not accidentally use the touch strip, it is designed to work once you hold the shift key.
This is pretty cool as it gives you many effects that you can save in the software and instantly recall them to give you better transitions and sound effects.
Dedicated Filter Knobs
Another one of the exciting features that we find on this controller are the dedicated filter knobs for both channels.
These give you the ability to improvise while playing live at a gig, or while mixing tracks at your studio.
The high pass and low pass filter functionality give some extra quality to your sound. Something that most of the other controllers in this range don't always offer.
The filter knobs are also a nice tool to use for adding some intensity during your drops.
Numark Mixtrack Pro 3 Review Verdict
To cut it short, the Mixtrack Pro 3 is a good choice if you are an upcoming DJ. Or, if you are trying to get your hands on an affordable, easy to carry around and multi-functional controller.
There are many features which are unique alongside the several other standard features. For this reason, the Mixtrack Pro 3 stands out as both affordable and unique.
If you still are keeping your options open, you might also like the Pioneer DDJ-200.