First Look at the Pioneer DJ DDJ-200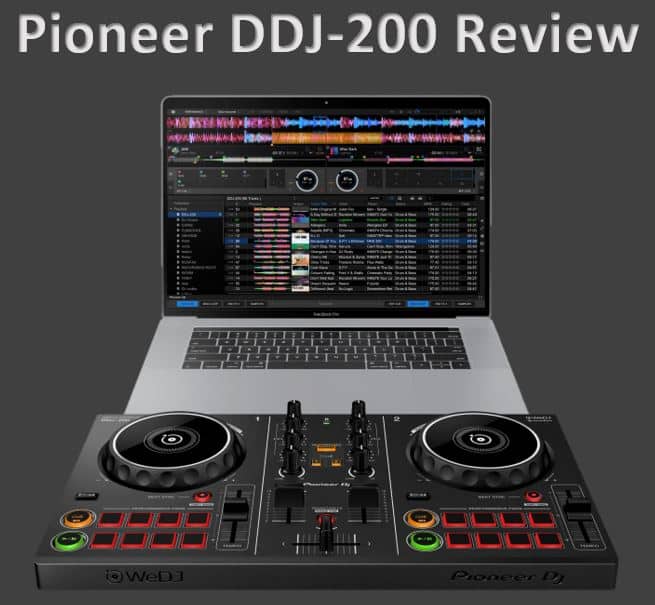 Pioneer DDJ-200 Review & First Look
The Pioneer DDJ 200 is a wonderful controller aimed at aspiring DJs who find themselves wondering: "what is the best DJ controller for beginners?" If you are looking to buy something affordable but also want something to quickly learn and progress in the art of DJing, then this is a controller you should seriously consider. This Pioneer DDJ-200 review will break down everything you need to know before deciding if this DJ controller is right for you.
---
Pioneer DDJ-200 Review - Summary
Quality
Considering that this is an entry-level controller, the quality is pretty good. Still nothing near what we find in some of the best DJ controllers, though.
Features
This controller contains features which are completely unique and innovative. This includes the ability to mix from a mobile app, along with stream and mix songs with Spotify.
Cost
When we look through the best budget DJ controllers, the DDJ-200 price is probably one of the most noteworthy features. In terms of price, the DDJ-200 is a pretty great deal.
This well thought out and innovative product from Pioneer has almost all the essential controls you would require for a pro-sounding mix. With many of the basic controls, it also has that professional feel to it. Pioneer made sure all the controls are positioned precisely to how they are on the other high-end products, making it easier to switch onto another controller whenever you are ready.
---
Pioneer DJ DDJ-200 Pros & Cons
Right off the bat, this product stands out as one of the best DJ controllers for beginners. This is due to its simplicity and overall superior out-of-the-box functionality. The Pioneer DDJ-200 price is also very reasonable, making it a great option for those on a tight budget. Let's go ahead and explore the major pros and cons of this DJ controller.
This controller, in our opinion, has the best value-to-money ratio out there for beginner DJs. Especially those looking to focus more on learning. This is also a great controller for mobile DJs since it allows you to access the worldwide streaming service library with an internet connection.
Support for apps like WeDJ and Rekordbox also make this DJ controller ready for mixing right away. Basic features needed in a DJ controller such as performance pads, tempo control, CFX control, EQ control, headphone cueing, and a 2-channel mixer all come included with the Pioneer DJ DDJ-200.
---
No built-in audio interface is one significant drawback as even the cheapest interface added by Pioneer would have still been better than the audio outputs most smart devices offer today.
A couple of other hardware features that are missing are dedicated loop controls, effect knobs, volume meters, and EQ instant kill switches would have certainly made this product almost perfect.
---
As a whole, this the Pioneer DDJ-200 price and competitive features make it one of the best starter DJ controllers. This is a high-quality starter controller that will not only help beginner DJs to cut back on music costs but also help them save lots of storage space. Since music can be played from streaming services, you now can access over 35 million songs from top streaming services at a gig.
Pioneer DDJ-200 Feature Highlights
In order to decide if you like the Pioneer DJ DDJ-200 or not, you need to have a complete understanding of the features. Let's go ahead and do an in-depth analysis of each of the top Pioneer DDJ-200 features to make sure you have a complete understanding on the practical usage of this new controller and the limitations that it has.
Portable Size & Weight
This device has a weight of only 3.75 lbs. and compact size of 75 x 11.5-inches. The height of the model is only about four inches. These specifications help make it one of the most portable and easy to carry around units out there.
Very Affordable Price
The Pioneer DDJ-200 price is one of the most relevant features of this product. Brace yourself as this controller one of the most affordable options you will find for these many features. As a result, if you have been searching for the best budget DJ controller, this controller should be placed high in your list of options.
Connects to Your Laptop
Mac & PC users can unlock Rekordbox for free and plug and play the unit directly. Rekordbox is popular DJ software that is used by professional DJs all over the world on some of the most elaborate setups known to the industry. As MIDI maps continue to be developed for this product, we should see it with functionality for each of the best DJ software including Virtual DJ, Traktor, Serato, and so on
Plays From Your Phone or Tablet
The DDJ-200 also offers the best device and app compatibility Pioneer has ever provided. You can now use your controller with the WeDJ app along with direct mixing through premium streaming services. With support growing in the future for more applications and software, this controller is truly a mobile DJ's dream.
Included DJ Tips & Advice
One of the reasons that this controller works well as a starter controller is that it contains features to best accommodate new DJs. Specifically, there are various tutorials and pop-up hints that users of the included WeDJ app can use alongside the controller. This will help a new user learn basic mixing and transition techniques.
Simple Transition FX
When you use the pop-up hints and included tutorials, one of the things you will learn is how to transition like a pro using the 11 different transition FX available coupled with the apps new Phrase Sync feature that auto-aligns the suggested start and end of your tracks to where verbal phrases are detected in the track. Although the Phrase Sync feature doesn't work flawlessly, it is an innovative feature which could theoretically be much better in the future.
Can Stream Songs Online
Perhaps the most impressive feature that this controller has is the ability to connect with streaming platforms and play your favorite songs with an internet connection. This device offers streaming support with Soundcloud Go+, Beatport LINK, Spotify Premium, and other platforms that are going to be added in the future.
Pioneer DJ DDJ-200 Review Verdict:
The Pioneer DDJ 200 controller is a good buy for beginner DJs, to play around with the various options and features offered by the device. It will undoubtedly give you that room to some extent since it comes with two deck controls, two channels, and 3-band EQ with knobs that have a nice pro-like feel to them.
Moving onto the hardware features this controller has, one must be clear that this doesn't come with an audio interface of its own and is a midi device that would use the audio output of your phone or any other device you control with this.
As a whole, this is a wonderful option if you want to find the best DJ controller for beginners.