Pioneer DDJ-400 Review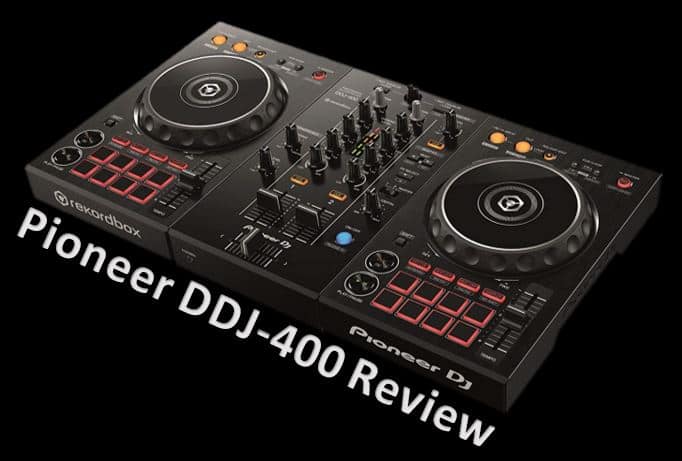 The Pioneer DDJ-400 is another great choice for those seeking an affordable DJ controller. In particular, one with enough features and capabilities to mimic professional-standard club decks without paying the club deck price.
Just like the Pioneer DDJ-200, the DDJ-400 boasts affordability and portability. It comes with a premium license key to one of the best DJ software options, a professional-style layout, and a built-in USB audio interface.
If you saw our choices for the best budget DJ controllers, you would already know that this is one of the best budget DJ controllers. In this Pioneer DDJ-400 review, we will cover everything you need to know about this controller.
Pioneer DDJ-400 Review Summary
Quality
Pioneer DJ gear has long been seen as one of the best brands in the industry in terms of quality. Although, certain parts may break easily with misuse. Generally, those who take good care of their gear will be able to put this controller for use for several years.
Features
This controller has the basic layout of a professional club-style deck. Although not quite up to par with more expensive gear, this is a great controller to learn on. It has all the basic controls and features you need to start taking DJing seriously.
Cost
If you are searching for the best budget DJ controller in the market, the affordable DDJ-400 price will immediately make this one of your top options. However, this controller also has all the basic features you need to mix professionally. It is a really great deal.
Pioneer has brought some high-end features to an entry-level price tag with the DDJ-400. Although this controller won't be good enough for DJs who need more than 2 decks or access to all the latest features, this is a great budget option. Since it has a professional-style layout and includes basic necessities like DJ software and an audio interface, it also doubles as a great portable controller for mobile DJs sick of hauling heavy gear around.
---
Pioneer DDJ-400 Pros & Cons
The DDJ-400 is one of the best DJ controllers for beginners that are available. This is due to its professional-styled design and superior out-of-the-box functionality. Here is a better look at some of the pros and cons of this controller.
Access to an audio interface and premium DJ software are two barriers to owning a portable DJ setup. Since this product comes with a premium Rekordbox license and a USB audio interface, simply plug it in you will be ready to mix within minutes.
The DDJ-400 boasts a club-style CDJ layout. This is great for mobile DJs who don't want to haul their heavy decks on the road. Or DJs who want to learn on club-style gear without paying the extra cost. The DDJ-400 has all the basic features you need to get started.
There are included tutorials which you can access using Rekordbox. This makes it easy to master all the features on the device without spending hours on Google. There are also CDJ-style active looping and cueing controls.
The layout of this controller makes it great for those accustomed to CDJs, or those wanting to buy CDJs eventually.
---
Since the set-up is designed to emulate a professional controller, there are no traditional FX controls on the Pioneer DDJ 400. Instead, this space was instead used to emulate the classic look of a CDJ setup with active looping and cue controls placed at the top.
The active looping section might confuse beginners who are starting from zero. However, it is important to practice using this feature before taking this out on gigs. Within a few minutes, you will quickly master the CDJ-style active looping using the included Rekordbox tutorials.
Many CDJ controllers have a large dedicated sync button placed near the play and pause buttons. Those who like this feature should look elsewhere since the sync button for the DDJ-400 is a lot smaller than average.
---
As a whole, the DDJ-400 is a great choice for those who want all the basic features of a club-standard DJ setup without paying the extra price or receiving large and heavy gear. This is a portable and budget-friendly option great for mobile DJs, beginner DJs, and even tenured professionals seeking a portable backup deck.
Pioneer DDJ-400 Feature Highlights
Whether you are considering Pioneer DJ DDJ-400 as your first controller or upgrading from a lower model, you'll need to know what unique features the DDJ-400 has to offer. Let's go ahead take an in-depth look at the most noteworthy Pioneer DDJ-400 features.
Club-Style Layout
The Pioneer DDJ 400 allows you to develop your skills on a layout with buttons knob placement similar to a club-standard deck. This makes it great for DJs already accustomed to a traditional CDJ and mixer layout, or those wanting to eventually buy an expensive rig like this.
Built-in Audio Interface
This controller comes equipped with a 24-bit / 44.1 kHz USB-powered audio interface. This is just enough power for you to output quality sounding-mixes on a PA system without clients complaining about sound quality. Or, having to worry whether or not your computer's stock soundcard will hold up at gigs.
Built-in Tutorials
As a beginner DJ, it is easy to be overwhelmed with confusion after looking at all the fancy buttons, knobs, and lights on a professional DJ controller. Using your included Rekordbox software and interactive on-screen tutorials, you can quickly master all the controls of this controller within minutes.
Rekordbox Software
A premium Rekordbox key is included for both Mac and PC users. You can easily plug and play with the included USB cable and premium software license key. The Pioneer DDJ 400 is also compatible with other popular software such as Virtual DJ, Traktor, and Serato.
Pioneer DDJ-400 Review Verdict
The Pioneer DDJ-400 is a solid choice if you want a great budget DJ controller with the most features possible. Its modern club-style layout and performance features will make your transition to more expensive gear smoother as you progress. For this reason, it is also a great controller for mobile DJs seeking a more lightweight and portable controller to take on the go.
If you are on the market for a more affordable option with many of the same features described here, be sure to check out the latest Pioneer DDJ-200 model from the same manufacturer.